Creative Zone's adwords conversions jumps & web traffic doubles after using Google Display & Remarketing ads.
About creative zone:
Creative Zone is a Dubai based business setup consultancy & solutions provider for entrepreneurs and business startups in UAE. They help set up new business in UAE.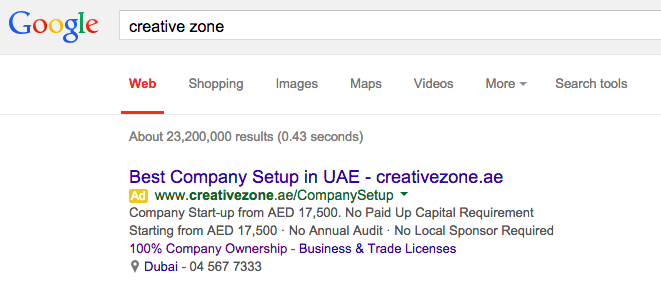 Background:
Creative Zone has been using Google Adwords campaign for over 2 years. Online ads are pivotal to generate new enquiries from users who are planning to start up new business. They have used multiple agencies in the past and were looking for efficient campaign management & optimization. They value responsive communication & cost effective leads.
Goals:
Increase conversions (new leads)
Decrease the cost per leads
Generate new calls and walk-ins
Grow visibility by boosting website traffic
Challenge:
There is tough competition in the space of business setup companies industry.
The quality of leads & spam was also major issue.
The cost of leads was high and more leads were needed.
Strategy & Approach:
Leads Dubai used below strategy to help creative zone get more cost effective leads.
Got rid of broad keywords, which were branching out into irrelevant keyword clicks & costs.
From Search Query Report (SQR) – used Broad Match Modifier & Phrase match keywords.
Removed multiple negative keywords & context to streamline the campaign performance.
Created multiple ad copies, which were relevant to the keywords & context.
Created new call, site links, location extensions to boost CTR, Leads, more calls & walk-ins.
Helped modify & create new landing pages and A/B testing to test and get new conversions.
Creative Zone Brand is popular – created new keyword campaign to generate quality leads.
Created remarketing campaign – This was never tried before & helped getting more leads.
Used Flexible bidding strategy to bid on ad groups based on conversions, ad position, cost per acquision and more. Still testing the right mix and experimenting to get the right formula
Cost per lead from mobile was high. So decreased the mobile bid -25% will increase after responsible landing page is designed as most users searched for services on mobile.
Google Display Network, we regularly refined & optimized the top-performing placement.
How Google Display Advertising boosts Leads for Business Setup Company
Key Tools Used:
Google Search & Display Network settings
Flexible Bidding Strategies
New Sitelinks & Call & Location Extension
Keyword Planner Tool & Display Planner
Testing Multiple Landing Pages + Google Analytics
Above pic shows Blue Line which is the total number of increasing leads per month.Orange line shows the decreasing cost per lead. Leads Dubai took over the account from March onwards. There has been steady increase in the leads at steady cost per lead.
Results:
Over 400,000 times the ads were shown in top 3 positions in last 3 months.
Over 1500 new leads (at effective cost per lead) generated in last 3 months.
Over 300 new business calls generated & 70 users clicked location map in ad in last 3 months
Website Traffic more than doubled from February 2014 to June 2014
Below is WHAT kayla – Marketing manager of creativezone.ae has to say:
"It is a pleasure to work with Mukesh of Leads Dubai. He took the time to understand our company, our goals and has been extremely instrumental in assisting us to generate affordable and quality leads for our business. I would recommend Mukesh and his team at Leads Dubai without reservation, you would be hard pressed to find someone who is as dedicated and professional as he is."