About the Ministry:
In accordance with Federal act No. (1) issued in 1972, Ministry of Public Works and Ministry of Housing and Town Planning have been established. Ministry of Public Works was inaugurated on April 1st 1972 after receiving tasks that were previously conducted by the Bureau of Development. The ministry was tasked to execute headquarters building projects for all ministries, as well as road and ports works.
Background:
The ministry approached Leads Dubai to get more app downloads from social media channels like, Instagram, Facebook, Twitter & Youtube. In the process more brand awareness and engagement of the app was to be achieved in northern emirates.
Mission:
Achieving sustainable development in planning, establishing and maintaining infrastructure projects and organizing the national-housing sector through outstanding organizational performance according the world's highest standards.
Campaign Marketing Strategy:
With the right creatives with different social media image sizes, we highlighted the features of the app to be used as marketing messages. With the right budget allocated to where most audience were, we ran the campaign for 3 weeks in order to help get more app user downloads. Campaigns with high cost of downloads were paused which lead to decrease of the cost per app downloads. Below were some of the creatives used.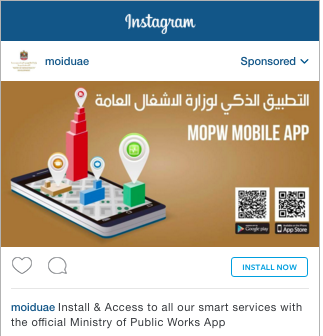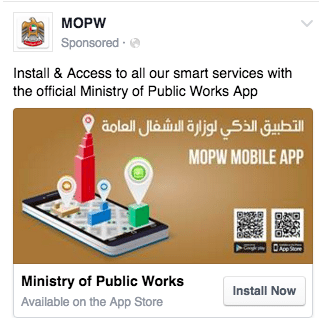 Results achieved:
Over 2.5 million users saw the ads on instagram, facebook, twitter & youtube
4500+ app downloads were delivered during the 3 weeks period
Brand lift and increase in social media fans and following was achieved.
Download the apps here – MOID – iOS App